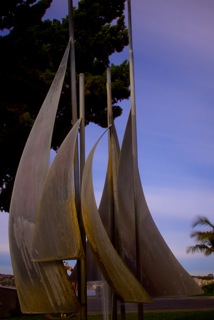 How many know the history behind the Fountain and the Bell? For new members and old, here are some interesting facts.
Vic and Verna Bowen came to San Diego in 1950 from Canada and were hired by the club as caretakers in 1955. They lived in the "house by the side of the road" and became a vital part of the club and its activities. The kids, when little, thought that Vic owned the club and just let us use it if we didn't break the rules. The adult members knew they didn't have to worry about the security of their boats or the club facilities as long as Vic was around. Vic and Verna didn't just work for the club for 10 years they were the club. Young and old received the benefit of their enthusiasm and guidance.
This all ended on April 1st, 1965. At 4 a.m., after a night of drinking, a part-time employee, William Tahl, tried to break into the club office. When he couldn't get in, he went to the cottage and told Vic to open the safe. He threatened Vic with a shotgun, but Vic wouldn't open the office. Vic was shot while struggling for the gun and Verna was shot as she came to the door of the cottage. Both were taken to the hospital and Verna died after four days and Vic after seven days. Tahl was captured the same day and is now serving a life sentence on death row. Club members spent many hours in the hospital and gave much blood to try to save the Bowens. "The years may dim the pain and sudden shock of their leaving us; they can never lessen the bright memory of their presence here."
In June 1965, a committee headed by Ross Harris was formed to plan the design and construction of the Bowen Memorial. Russell Forrester, A.I.A., designed the sculpture and Gene Weston of MBYC designed the reflecting pool. Commodore Les Marshall coordinated all phases of the design and construction. Financing was accomplished through the donations of the membership. The fountain is an artistic symbol of two beautiful people who meant a great deal to Mission Bay Yacht Club.
The Bell came from the U.S.S. Mission Bay, a C.V.E. "Escort" carrier commissioned in 1943, which served well during World War II. When Commodore Sterling Rounthwaite heard in 1959 that the ship was going to be scrapped, he wrote his friend, Congressman Bob Wilson, to see if our club could get one of the ship's bells. A bell was donated to the club that same year. A copy of Bob Wilson's letter and a picture of the U.S.S. Mission Bay are displayed in the main showcase. The bell is rung each Opening Day. Historians, Nancy & Gordon Billhard